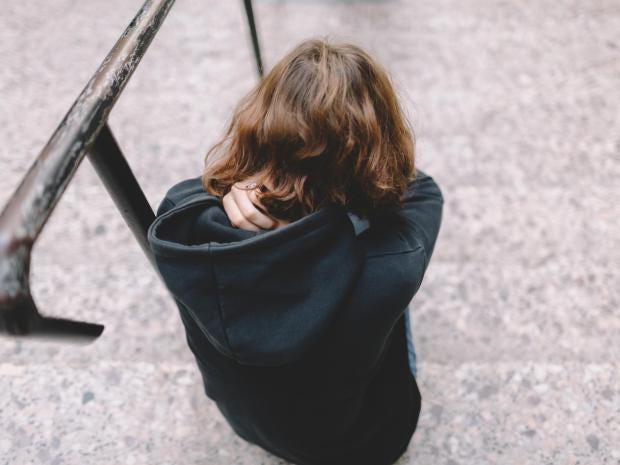 Schools have seen a rise in self-harm cases among youngsters because of social media use
School leaders are calling for new social media laws to keep children safe amid fears their mental health is being 'damaged'.
Most headteachers have received reports of pupils being exposed to upsetting material on social media sites – including self-harm, bullying, hate speech and sexual content, a poll by the Association of School and College Leaders (ASCL) has found.
And two-fifths of school leaders said they had received reports of young people being bullied on social media on a daily or weekly basis, the survey revealed.
More than nine in 10 said pupils' wellbeing had suffered as a result of social media use over the past year – and they say new laws and regulation should be introduced to keep children safe.
The survey, which questioned 460 secondary school headteachers in January, has been released on the first day of the ASCL's annual conference in Birmingham.
The majority of school leaders had received reports of pupils experiencing low self-esteem after seeing idealised images on social media sites, as well as missing out on sleep because of use.
And some headteachers reported that social media misuse had led to young people self-harming.
One school leader said: "We have seen a big increase in cases of self-harm related to the use of social media. When in the past the first weeks after a break used to be quiet, they are now much worse as pupils seek to settle arguments that have been enhanced over the holidays."
More than three-quarters of school leaders think that the Government and social media firms should produce more information for parents.
The Government has said it wants the UK to be "the safest place in the world to be online", and it will introduce a new code of practice setting out the minimum expectations on social media companies.
But some heads argue that parents are still not taking enough responsibility about social media.
"A very small number of parents also behave badly on social media," one headteacher said.
"When the school arranges e-safety meetings for parents there is very limited attendance.
"A national campaign to educate parents and alert them to the dangers of social media would support the education that is happening in schools for students."
Another school leader said: "Far too frequently parents join in with trolling or abuse incidents, or model abusive or harmful social media behaviour to their children themselves."
Geoff Barton, general secretary of ASCL, will warn attendees at the annual conference on Saturday that social media has a "dark side".
He will say: "It is a technology which has grown at great speed, outstripping our ability as a society to understand and mitigate against these negative impacts. More must be done to protect young people so that they can enjoy social media safely and responsibly.
"We recognise that the Government is trying to find solutions, but we are not convinced that the current proposals go far enough."
The impact of social media on children's mental health will be just one of a series of issues facing schools covered at ASCL's annual conference today and tomorrow.
Carl Ward, president of ASCL, will say in a speech to conference that overhauling every aspect of England's education system – from exams to the curriculum – at the same time was "madness".
Mr Ward, chief executive of City Learning Trust, a group of schools in Stoke-on-Trent, will call for a long-term plan for the education system that is not affected by a "ministerial merry-go-round".
"What has happened over the past few years is quite frankly ridiculous," the president will say.
"Setting aside whether the reforms have been wrong or right, their sheer weight and complexity has placed intolerable and unsustainable pressure on schools, teachers and leaders."
He will add: "The consequences are all too clear. We are mired in a teacher recruitment and retention crisis, which is fuelled largely by the negative perception of our profession caused by this blizzard of change and workload which has gone into overload."
Paul Drechsler, president of the Confederation of British Industry, is also expected to tell the conference today that academic achievement alone is not enough, and pupils need to be prepared for adult life.
He will say: "It's time to reset the debate. End the parade of government announcements that make a good headline but don't make a jot of difference on the big issues.
"Of course academic achievement matters. But alone it's not enough for the exciting world we face – in work or in wider society."
This article originally appeared on Independent.com, and you can view the original article here.