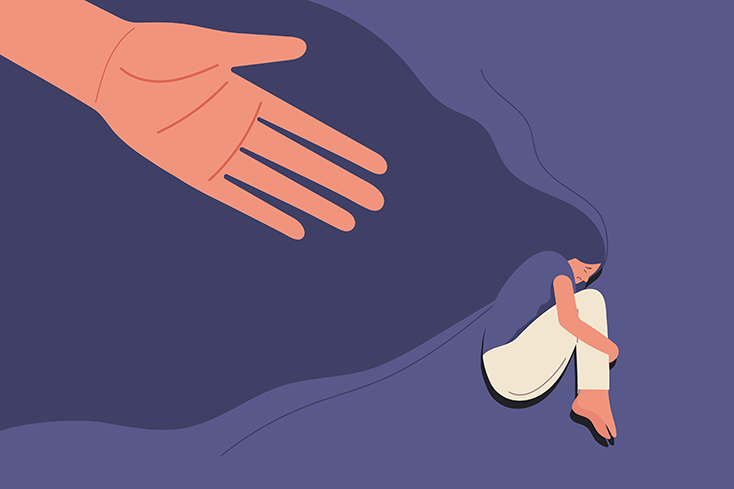 If someone you love experiences a mental health crisis, do you know where to turn for help? Would you call 911 hoping that the person who responds has been trained in de-escalation? Would you go to the hospital emergency room hoping that your loved one won't be left to sit there for days? Too many people live in fear of what will happen when they reach out for help.
Unfortunately, the statistics show that, too often, people in mental health crises experience tragic outcomes. According to The Washington Post's database of fatal police shootings, one in four people shot and killed by police between 2015 and 2020 were people with mental illness. More than 2 million people with mental illness are booked into our nation's jails every year. And tragically, more than 48,000 people died by suicide in the last year.
It doesn't have to be this way. People who experience a mental health crisis deserve a mental health response, not a criminal justice response. When someone experiences any type of physical health crisis, they expect to be able to call 911 and receive an appropriate health care response from EMTs. NAMI is working to create a system where someone experiencing a mental health crisis can also have expectations to receive a crisis standard of care provided by mental health professionals.
Reimagining Crisis Response
In the fall of 2020, Congress passed the National Suicide Hotline Designation Act, creating a nationwide number — 988 — for mental health and suicidal crises. The Federal Communications Commission has acted to make 988 available in every community by July 2022.*
The upcoming rollout of 988 means that mental health advocates have an opportunity to push for not only crisis call centers that can respond to 988 calls locally, but the other components of a crisis response system (listed below). The argument for making these changes now is simple: When someone dials 988, we need to make sure appropriate mental health services are available on the other end to respond to a range of crises. We need more than a number.
In 2020, the Substance Abuse and Mental Health Services Administration (SAMHSA) published crisis guidelines that outline a standard of care for mental health crises, including:
24/7 crisis call centers that can provide immediate support over the phone and connect callers to community resources.
Mobile crisis teams that dispatch mental health professionals (including peers) when someone needs more help than can be provided over the phone.
Warm and welcoming crisis stabilization programs that help identify longer-term treatment needs and keep a person from needing more intensive care.
Currently, very few communities across the country offer anything close to the standard of care for these services. Without adequate crisis response services, communities are left to depend on law enforcement and emergency departments that are often ill-equipped to help someone experiencing a mental health crisis.
How You Can Help
NAMI is advocating at the federal level for resources to help states and local communities expand their crisis services. Additionally, many NAMI State Organizations are working with partners to advance state legislation that will define the requirements around crisis services and ensure funding is available for these services.
Many states are looking to charge monthly fees on telephone bills, which was outlined in the federal legislation creating 988, and is similar to how 911 is funded. For example, Virginia, Washington, Nevada and Colorado have all passed legislation that included these monthly fees.
Ask Your Elected Officials to Support Mental Health Crisis Services
At the federal level, you can urge Congress to prioritize NAMI's work surrounding crisis response by visiting our Advocacy Center at nami.org/crisisadvocacy and joining our efforts. At the state level, you can check with your NAMI State Organization to see if they are working on this issue and add your voice to their efforts.
Reach Out to Your Elected Officials to Share Your Story
While data informs policy work, stories move policymakers. Your representatives in your local community, state capital and Congress need to hear from you. Many have never considered what they would have to do if a loved one was experiencing a mental health crisis, so hearing first-hand accounts of what you or a loved one have gone through can help them understand the gaps in our existing mental health system.
Visit NAMI's Advocacy Center (see above) to find the federal, state and local elected officials who represent you.
Email or call your elected officials (due to extra security in recent years, as well as reduced staffing in many areas due to COVID-19, mail takes much longer to reach elected officials).
Share what happened when you or a loved one needed crisis care and articulate what needs to change for others (in some cases, you might have accessed good crisis care, so share that, too and explain that everyone in crisis should have that same expectation of care).
These are the important points to hit in any type of communication with an elected official:
1. Introduction
Share where you live (so they know you are a constituent who lives in their district), your connection to mental illness and why you are writing/calling/meeting with them.
Example: "I'm here to ask for your support for mental health crisis services."
2. What Happened
Briefly (written in one paragraph or said in 30 seconds) share a little about your or your loved one's crisis — what you experienced, how it impacted you and others, etc.
3. What Helped
Share what went well when you sought help. If it didn't go well, share what alternatives would have made the experience better or led to a more positive outcome.
Example: "I would have been less threatened if I was met by a mobile crisis team staffed by plain clothes mental health professionals, but instead, I was met by law enforcement officers, which made me panic."
4. How Are You Different Today?
Share where you/your loved one are today, focusing on things that are going well, if possible.
Example: "Since her crisis, my sister got the help she needed to get well and stay well. Today, she lives on her own and is working toward her college degree."
5. What Is the Need Or Problem?
Transition from your story to the larger issue you want addressed.
Example, "After many tries, my family finally got my nephew the care he needed, but not every family is so lucky."
6. What Will Help Others
Let your listener/reader know what solution will help people in crisis.
Example: "Making sure there is a range of services to help anyone in crisis, no matter where they live — including crisis call centers, mobile crisis teams and crisis stabilization programs — will help ensure no one in mental health crisis falls through the cracks."
7. What You Want Them To Do
Close your communication by making a specific request.
Example: "Please support [insert local initiative bill number or name], which will require all crisis services to be available and implement a fee on all phone bills to fund these services. Everyone deserves to be able to access the care they need when they are in a crisis."
Look for Opportunities to Share Your Story Publicly
Write a letter to the editor in your local paper about why the mental health crisis system in your community needs to change. If there is a 988/crisis services bill moving through the legislature in your state, look for opportunities to testify and share your story with the legislative committees considering the bill.
Engage Other Advocates
To reimagine our crisis response system, we will need support from a large variety of stakeholders. Engage other mental health advocates, but look beyond the traditional mental health community, too. Hospitals and emergency departments, law enforcement, EMTs — they all see the impact of inadequate crisis care and are natural allies.
Seek out social justice groups, housing advocates, substance use organizations and others who intimately know what the impact is when our crisis system fails us. The more voices, and the more diverse perspectives, the further our message can reach.
Be Patient
Change doesn't happen overnight. While some states are moving quickly, others will need more time to build support. 988 will go live next July, but even if mental health crisis services aren't fully in place by that time, every small step forward is progress.
NAMI advocates are here for the long haul, and we won't rest until people experiencing mental health crises can receive a mental health response everywhere in this country.
Hannah Wesolowski is the Chief Advocacy Officer at NAMI.
Note: This article was originally published in the Fall 2021 issue of the Advocate.
*988 will not be available nationwide until July 2022, but if you or somebody you know is in crisis now, get help by texting "NAMI" to 741741 or calling the Suicide Prevention Lifeline at 1-800-273-8255.