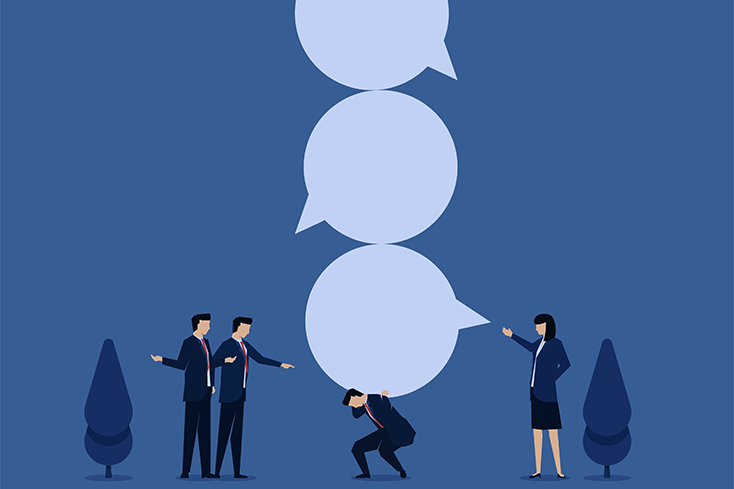 As I reflect on my journey with mental health, both personally and professionally, I am reminded how stigma pervades casual conversation and language — and just how damaging this stigma can be. For as long as I can remember, I have heard people use mental health diagnoses to describe everyday scenarios, like temperature changes or when an individual expresses organic emotions that do not need to be defined or clinically labeled. These casual mentions of "bipolar weather" or "crazy individuals" are not just momentarily offensive; they have wide-reaching consequences that deeply impact the lived experience of people with mental illness.
When I entered the mental health profession, I brought along my own history of trauma, which contributed to bouts of debilitating anxiety and depression. After leaving the Air Force and seeking treatment, I encountered some great (as well as a few not-so-great) providers. I learned what it felt like to be heard and validated; unfortunately, I also learned what it felt like to be labeled and reduced to a diagnosis.
My personal experiences, both the good and the bad, led to a deeper level of empathy and understanding for the individuals I would encounter later in my career as a therapist. My own experience in the mental health care system fueled my desire to hold space and advocate for people with mental illness, who are active members of society deserving of equal treatment and a life without labels.
After several years of working in the mental health field as a behavioral health technician, case manager and team lead, I returned to school to become a therapist. I will never forget the passion I felt when I wrote my letter of intent to submit with my application. I told my personal story and explained how this ignited my desire to become a therapist.
Now, years later — after continuing to see the impact of stigma and labeling from "the other side" — I hope to discuss stigma from the eyes of a clinician.
Understanding The Impact Of Stigma
Navigating a world riddled with labels, judgment and shaming can be exhausting and disheartening for anyone. Naturally, feeling like our many qualities, talents and complexities have been reduced to a single word or label is hurtful. For people with mental illness, this compounds an already-challenging circumstance: Managing and seeking treatment for a mental health condition.
As I have observed in my clients, many people feel reduced to the label of their diagnosis and the careless language others have used to describe them. This, in turn, often leads to:
Social isolation and the desire to withdraw from the world
Feelings of shame
Reluctance to seek treatment
Early termination of treatment
Low self-esteem
Feelings of hopelessness and/or helplessness
Oftentimes, I have found myself working with individuals who have struggled with thoughts of being seen as "broken" and "worthless" due to the impact that stigmatizing language has had on the way they see themselves.
Ultimately, labeling individuals — whether out of frustration or a general lack of understanding — contributes to an unhealthy culture of stigmatizing mental illness. As a result, people with mental health conditions are unduly burdened by others' perceptions.
Addressing Labeling And Stigma From Clinicians
Unfortunately, stigma is not limited to clients' personal lives; it often invades clinical settings.
To this day, I cringe when I hear anyone in the mental health field use stigmatizing language, like the word "crazy," or refer to clients by the name of their diagnosis rather than describing them as the human they are at the core. The use of careless language demonstrates a gap in appropriate education, and it underscores the importance of clinicians approaching their work with a trauma-informed perspective.
Practitioners' use of stigmatizing language does not simply impact their clients — it can also wreak havoc in the workplace and drive the fear of speaking up. For example, careless conversations amongst colleagues in a medical setting could impact a provider's willingness to seek help for themselves out of fear of being labeled or judged in their place of work. Instead of disclosing the need for help with managing difficult emotions or previously diagnosed mental illnesses, providers may attempt to navigate these difficulties themselves — hoping to avoid being labeled as "too incompetent "or "not stable enough" to do their jobs.
Fighting Stigma In Our Own Lives
While clinicians have a role to play in eliminating stigma in mental health settings, there are steps that all people can take to change our cultural attitudes toward mental illness. We can change the lived experience of people with mental illness by addressing hurtful labels, calling out reductive language and changing the conversation about mental illness in our own lives.
A few ways of fighting the stigma include but are not limited to:
Taking the time to learn about mental illness
Taking the time to learn about symptoms and treatment of various mental health conditions can provide critical insight into what living with mental illness can be like, promoting empathy and compassion. This knowledge can also help us better support those who are navigating mental illness and recovery.
Becoming an advocate
Advocating for those with a mental illness provides visibility, encourages necessary policy and social changes, and underscores the fact that those living with mental health conditions are not alone. Moreover, people living with mental illness may see these efforts and reconsider their internalized stigma, like feelings of shame and guilt.
Educating others about stigmatizing language
Shedding light on and educating others about the damaging effects of stigmatizing language is an essential step toward ending stigma. When we change our words, we can change people's attitudes and perceptions of mental health.
Speaking openly about mental illness
Speaking openly about mental illness normalizes its existence. Additionally, having a safe space to share experiences can provide hope to others in their journey and may even encourage them to share their experiences as well.
Providing support
Providing support to someone with a mental illness or a loved one of someone with a mental illness not only shows them that you care, but it also helps the individual feel less isolated.
Ultimately, the conversation surrounding mental illness does not need to be riddled with labels and stigma. It can be a hopeful and productive dialogue that highlights the bravery, diligence and resilience of people with mental health conditions.
Joshualin Dean is a therapist in Tampa, Fla. She specializes in trauma with a population focus on victims of crime. Joshualin is skilled in crisis intervention, trauma-informed care and mindfulness-based techniques. She also has experience working in inpatient psychiatric units, residential programs and outpatient settings.