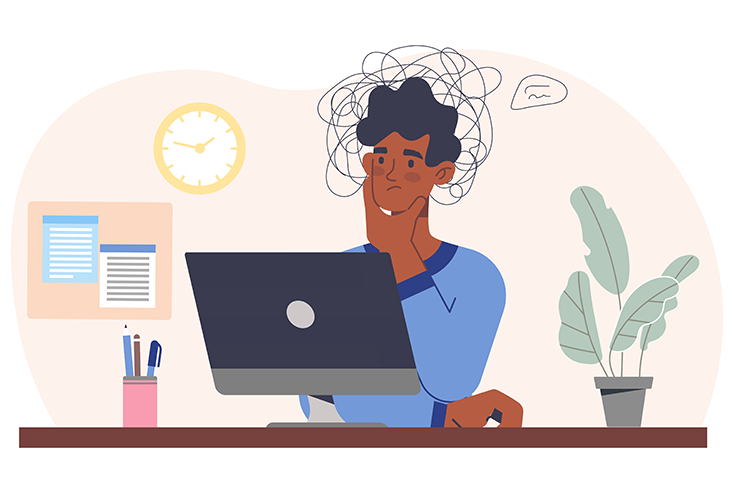 The mental health of today's young people is reaching crisis levels.
A recent CDC survey discovered that 37% of U.S. high school students reported regular mental health struggles during the COVID-19 pandemic. According to The Trevor Project, 45% of LGBTQ youth seriously considered attempting suicide in the past year. The American Academy of Pediatrics, the Children's Hospital Association and the American Academy of Child and Adolescent Psychiatry recently declared this crisis a national emergency.
As the mental health conversation has evolved, schools have become at the forefront of mental health initiatives. 30% of all students who receive mental health services find that support in schools  — making our education system the most accessed mental health delivery system by children and adolescents.
As schools and universities rush to keep up with the increasing demand for mental health resources, students say that what's currently being offered at school to address mental health is not enough
The Issues Students Are Facing
In our new study from Springtide Research Institute that surveyed over 3,000 students and interviewed 80 more, students said their schools often provide "performative," "inconsistent" and "reactive" mental health interventions — like providing support dogs during finals week — but fail to sustain a mental-health friendly culture at school that supports students consistently.
Offering Only Performative Resources
"In my university context, performative mental-health resources, especially those that aren't long-term, do more harm than good," explained Lana, a 22-year-old university student. "Bringing in dogs to pet at the library during finals does not address the core element of why students have an uptick in hotline calls from stress and anxiety during finals and the weeks leading up to them." She went on to say, "Therapy dogs aren't going to solve that. We need consistent mental health resources that address how academia is structured to make students stressed."
Not Addressing the Stress that Comes from School
Students also expressed frustration that school initiatives don't address the underlying reasons for stress — namely, the stressors that come from school.
Julie, a 17-year-old high school student, explained, "Even guidance counselors at school will be like, 'Oh, is everything okay? Oh no, it's not? Well, I'll help you, but you have to get a good grade on your test because you don't want your grades suffering.'" Julie explained that what students need is "somebody to talk to who's going to help us — who doesn't have any motive besides just wanting us to get better. Our guidance counselors, even though they're great, they have that mode of like, 'Okay, how are we going to pass those classes?'"
Prioritizing Getting into College Over Students' Health
Additionally, students say their schools seem to encourage the pressure to achieve constant success and to be perpetually busy for the singular goal of getting into college. Sophie, Sofia and Acadia, all high school students, told Springtide they are rarely encouraged to pursue goals and activities that aren't directly related to college ambitions.
"We are expected to do clubs, sports, AP classes, college classes and work, all so that we can get into a good college," they said in a combined statement. "At times, it seems that schools' systems push the idea of college and career so much that they forget to tend to students' hearts and souls."
Focusing Solely on Crisis Response
A major issue with school initiatives to address mental health is that they often fail to address the systemic nature of the mental health crisis. What is currently happening in most schools, students say, is crisis response, when what's really needed is crisis prevention.
This doesn't negate the importance of crisis response; schools and educators place focus there for good reason. However, the problem arises when schools simply default to a crisis response that is "inconsistent, and frankly, doing more for the university's image than the well-being of their students," Lana, a 22-year-old university student, explained.
What Can We Do?
We must expand the conversation from the individual — that is, moving away from asking what one person can be doing differently to improve their own mental health — and begin to address the issue as a collective concern: What can organizations, groups and schools specifically do to better support the mental health of their young people?
As sociologists, we know our role is not to do the work of therapists, teachers, counselors, etc. Instead, our work is to shine light on what young people are telling us. When it comes to the resources and tools they need to thrive in their mental health, we noticed a few themes.
Encouraging Social Support
Students thrive when schools promote deep social connections. These connections engender a sense of belonging for young people, which is essential to their mental wellness. Springtide has identified that a sense of belonging requires that young people feel noticed, named and known. Teachers play a special role here: Students who had a meaningful interaction with a teacher or professor were significantly less likely to feel lonely at school.
Updating Curriculum to Consider Students' Mental Health
Students need to have achievable expectations and the tools they need to meet those expectations. A school cannot authentically say they prioritize mental health if they are giving their students enough homework to keep them up past midnight to get the grades they desire. Schools needs to take a proactive approach to curriculum design so that teachers can get the best out of their students academically while accepting their mental health needs.
Fostering a Sense of Purpose
Schools have an opportunity to create a sense of purpose in young people. There's a prevailing sense among young people that their purpose at school is to get good grades. But fostering purpose at school also means encouraging young people to find their connection to something bigger than themselves —what they want to accomplish, who they want to become and how they want to make a difference. Students discovering a bigger purpose at school, we found, are more likely to say they're "flourishing a lot" in their mental health.
If schools commit to fostering a mental-health friendly culture that deepens social connections, provides the tools students need to meet achievable expectations and promotes a sense of purpose in young people — they will be better equipped to prevent mental health crises and enable all students to thrive.
Kevin Singer is Head of Media and Public Relations at Springtide Research Institute and a professor at two community colleges.
Sam Ludlow-Broback is a Media Relations Intern for Springtide Research Institute.
Springtide Research Institute's report, "Mental Health & Gen Z: What Educators Need to Know," is available for purchase here.